News
President Ilham Aliyev reviewed secondary school No. 121 in Bina District after major repair and reconstruction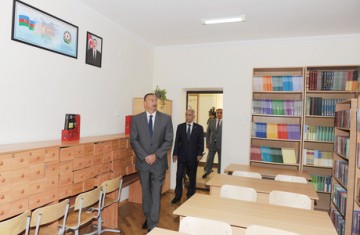 President of the Republic of Azerbaijan Ilham Aliyev has reviewed a new block of secondary school No. 121 in Bina District after major repair and reconstruction.
Work has continued this year under an action plan featured in the State program on socioeconomic development of Baku and its suburban settlements to repair and overhaul secondary schools in the capital.
Baku Mayor Hajibala Abutalibov informed President Ilham Aliyev about repair and major reconstruction work at secondary school No. 121. Built in 1934, the school received a new block in 2006-2007. As the school was unfit for use, it was knocked down and a new state-of-the-art building constructed in its place in 2012. When President Ilham Aliyev attended the opening of this block last year he was told that the second block was in need of repair too.
The head of state immediately gave instructions to revamp the second block of the three-storey school named after martyr Amirahmad Guliyev. The 780-seat block, which has 35 classrooms, was revamped this year under instructions of the head of state.
President Ilham Aliyev reviewed the building. Classrooms and departments of the new block meet modern standards. The school is supplied with modern teaching aids and equipment. State-of-the-art heating and lighting system is available here. An area of hectare around the school was landscaped and green areas laid out.