News
President Ilham Aliyev received a delegation led by the Commander of the United States Transportation Command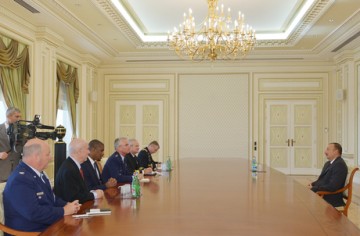 President of the Republic of Azerbaijan Ilham Aliyev has received a delegation led by incoming Commander of the United States Transportation Command Paul Joseph Selva.
The parties noted that Azerbaijani-US relations were successfully developing in different areas, including the area of transport infrastructure. It was noted that favorable conditions were created in Azerbaijan for transport infrastructure, overland transportation and goods transportation. The parties emphasized the importance of implementing large-scale projects on this front.
It was also noted that Azerbaijan had become one of the important venues in terms of international transportation thanks to its favorable geographic location and economic success.
Azerbaijan`s involvement in the peacekeeping mission in Afghanistan and contribution to transport provision was praised during the meeting. The parties also discussed cooperation prospects.