News
Chief of Azerbaijan State Border Service receives Commander of the Afghan Border Police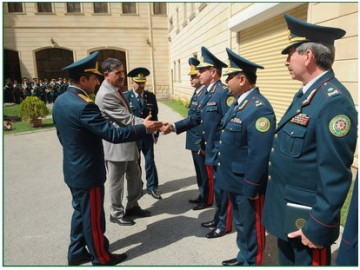 The delegation led by Lieutenant-General Mohammad Shafiq Fazli, Commander of the Afghan Border Police (ABP), Interior Ministry of Afghanistan visited Baku to attend an event on the 95th anniversary of the Border Guard of Azerbaijan at the invitation of Chief of State Border Service, Commander of Border Troops, Lieutenant-General Elchin Guliyev.
Elchin Guliyev and the delegation led by Lieutnant-General Mohammad Shafiq Fazli held a meeting.
Border security issues, measures to improve the protection of the state borders and service achievements were discussed at the meeting. They exchanged views on prospects of cooperation between the bodies and other issues of mutual interest.
The sides also emphasized the importance of expanding bilateral relations, the Afghan border police officers' attending long-term academic trainings, as well as refresher courses in various specialty areas at the Academy of the State Border Service.