News
Meeting of Azerbaijani, Turkish and Georgian defense ministers in Turkish spotlight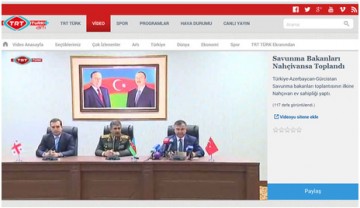 The Turkish press has issued a range of articles on yesterday`s trilateral meeting of the Azerbaijani, Turkish and Georgian defense ministers in the Nakhchivan Autonomous Republic.
The articles hail the meeting as "a sign of strategic partnership between Azerbaijan, Turkey and Georgia".
"The trilateral cooperation between the countries is a basis for the implementation of the Baku-Tbilisi-Ceyhan, Baku-Tbilisi-Erzurum and Baku-Tbilisi-Kars projects."
"Ensuring the security of these economic project is in the best interests of both Azerbaijan, Turkey and Georgia," the articles say.