News
Turkish Minister: Azerbaijan has right to return its lands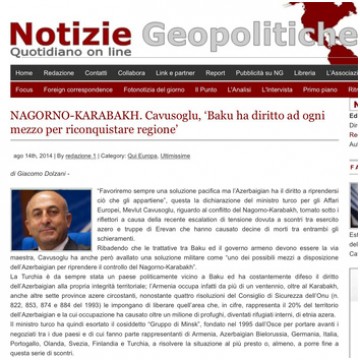 Italian "Notizie Geopolitiche" website has published Turkish Minister for European Union Affairs Mevlut Cavusoglu`s opinions on the Nagorno-Karabakh conflict.
Highlighting the recent escalation of tension on the line of contacts of the Armenian and Azerbaijani armies, Cavusoglu said "Of course, we back peaceful settlement of the dispute, but Azerbaijan has the right to return its lands. The negotiations between the parties are the main way of the settlement of the conflict. But, Azerbaijan has the right to liberate the Nagorno-Karabakh region with military means." The Turkish minister also noted that the OSCE Minsk Group should be more active to resolve the conflict.
The author of the article also informed the readers about the conflict, saying Azerbaijan`s Nagorno-Karabakh region and its surrounding 7 regions were occupied by Armenian armed forces more than 20 years ago. Despite the UN Security Council resolutions demanding immediate and unconditional withdrawal of Armenian armed forces from the occupied Azerbaijani territories and return of refugees to their homeland, the conflict has not been settled yet. As a result of the conflict Armenian armed forces occupied 20 percent of Azerbaijan`s territory, and more than one million Azerbaijanis became refugees and IDPs.