News
Italian website publishes article on Armenia-Azerbaijan Nagorno-Karabakh conflict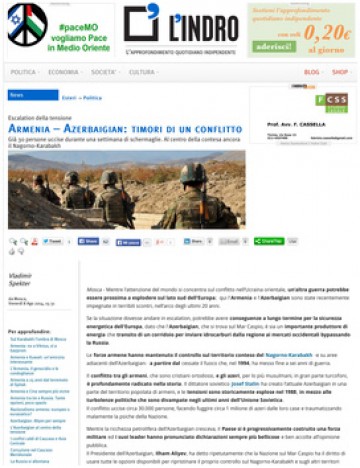 Italian website www.lindro.it has posted an article on the Armenia-Azerbaijan Nagorno-Karabakh conflict.
The author says: "Today, when the attention of the world is focused on the Ukrainian events, there is a tension in the Southern Europe, which can be resulted with a bloody war. If the Nagorno-Karabakh conflict, which last for more than 20 years would not be settled and the tension on the line of contact between Armenia and Azerbaijan would not be calmed down the European energy security would be under the threat. Today, Azerbaijan is an important country for the European energy security. From this point of view, Europe is interested in maintaining stability in the South Caucasus."
The author also gives information about the Nagorno-Karabakh conflict, noting many people died and more than one million Azerbaijanis became refugees and IDPs.
Speaking on the rapid development of Azerbaijan, the author stresses the country strengthens its army, too. President Ilham Aliyev has repeatedly stated Azerbaijan has the right to use every means to return the Nagorno-Karabakh and its 7 surrounding regions. The tension, which increased last days in the line of contact between Armenia and Azerbaijan, once again demonstrated that the international community must increase its attention to the region. The OSCE Minsk group`s long-term efforts to settle the conflict was ineffective. Azerbaijan is very important country for the West.
The full article is available at:
http://www.lindro.it/politica/2014-08-08/137719-armenia-azerbaigian-timori-di-un-conflitto