News
Italian "Il Tempo" newspaper publishes article analyzing current situation of Azerbaijan-Italy relations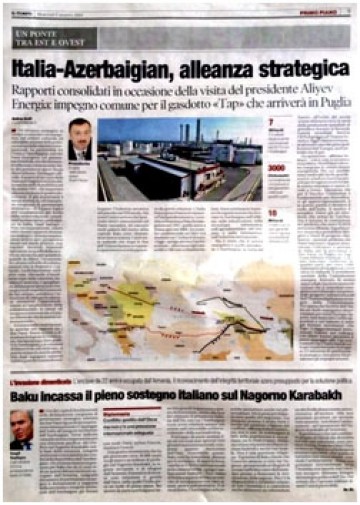 Italian "Il Tempo" newspaper has published an article analyzing current situation of Azerbaijan-Italy relations. The two countries enjoy with expansion of relations in various spheres, including politics, economic, culture, education and energy. The author underlined that the bilateral relations between the two countries have been strengthened even more following Azerbaijani President Ilham Aliyev`s last visit to Italy, which resulted with the signing of important documents, as well as adoption of the Joint Declaration on strategic partnership. Citing Azerbaijani ambassador Vagif Sadigov`s saying, the author noted the adoption of the Declaration is a logical step towards development of bilateral relations between the two countries. "This cooperation promises to us new prospects for expansion of relations in the fields of politics, security, defence, economics and culture, strengthening ties between the regions".
The ambassador said relations between the two countries have historic roots, adding "the existence of a number of buildings constructed by Italian architects once again prove the fact.
The relations started to develop in 1991, when Azerbaijan restored its independence. Italy is one of the first countries, who recognized Azerbaijan`s independence. There are a lot of Italian companies working in Azerbaijan in the fields of construction, infrastructure, ICT, agriculture and tourism."
Touching upon the Declaration on Strategic Partnership between the two countries, the author said the document features expansion of cooperation in bilateral and multilateral directions of mutual interest. The readers were informed Azerbaijan, which is known as the Land of Fires, covered a half of oil production of the world at the beginning of last century. The 70 percent of oil that the Soviet Union used in the World War II belonged to Azerbaijan. Today, Azerbaijan is the main country in the European energy security. In terms of diversification of energy, the country is very important for Europe. The author also informed on the TAP project.