News
A joint meeting of the Presidents of Azerbaijan, Russia and Armenia was held in Sochi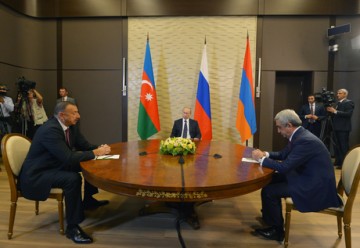 A joint meeting of President of the Republic of Azerbaijan Ilham Aliyev, President of the Russian Federation Vladimir Putin and President of the Republic of Armenia Serzh Sargsyan has been held at the Bocharov Ruchey residence in Sochi.
Saluting the Azerbaijani and Armenian heads of state, President Vladimir Putin said:
- Dear Ilham Heydarovich,
- Dear Serzh Azatovich,
I once again thank you for the opportunity to meet in Russia. Yesterday we discussed the bilateral relations both with the Armenian and Azerbaijani presidents. We also communicated informally. And, thank God, we did not touch upon business-related issues yesterday. However, we had an opportunity to speak to each other on various topics. I believe this creates a certain atmosphere for a sincere discussion of complex issues related to the regional settlement.
Naturally, there are international formats for resolving these problems, the Karabakh problem. And we certainly respect all these international formats and will continue working with our colleagues.
But we have particularly close relations and deep history, which allows us the opportunity to sincerely exchange views over what we have and what has to be done so that we can move forward in the settlement of all these problems, which is a legacy of the past. Anyway, I think it is useful. I am pleased to have an opportunity to meet and talk with you about all these issues.
President Ilham Aliyev said:
- Thank you, Vladimir Vladimirovich.
Thank you for your attitude towards this issue. As we discussed yesterday, this issue needs to be resolved. It has gone too far. I hope that your involvement in this process will give a new impetus to the negotiations. As you mentioned, there is a format of negotiations, there is also a legal base for the settlement of the conflict. The UN Security Council has adopted four resolutions demanding an immediate and unconditional withdrawal of Armenian occupation forces from Azerbaijani lands. Unfortunately, although more than 20 years have passed, these resolutions remain on paper.
The Minsk Group, in the person of its co-chairs, is working. They are trying to bring about a rapprochement between the parties, but they have not done well. So I think that as our close friend, partner and neighbor, Russia has a special role to play in the settlement process. We hope that soon, by means of negotiations, by peaceful means, we will find a solution that will comply with international law and justice.
Russian President Vladimir Putin said:
- I note with pleasure that the Azerbaijani President too underlined the necessity for resolving the conflict by peaceful means. This is actually the main thing because there can be no greater tragedy than the death of people. We should not forget that this conflict situation emerged long ago. It is a legacy of the past, and we can and should say that it is a legacy of the Soviet Union. We should display patience, wisdom and respect for each other to find a solution. No doubt, any complex situations can be resolved if there is good will. And I think that such good will exists both on the part of the Azerbaijani people and the Armenian people. So let us discuss the issue with you now, and then talk things over with our colleagues.