News
Azerbaijan, Iran discuss expansion of cooperation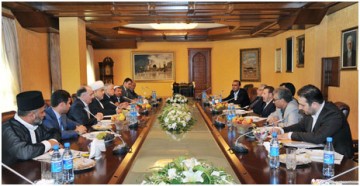 Azerbaijan and Iran have explored ways of expanding cooperation as Chairman of the Caucasian Muslims Board (CMB) Sheikh-ul-Islam Haji Allahshukur Pashazade met an Iranian delegation led by Minister of Communications and Information Technology Mahmoud Vaezi.
Pashazade noted dynamical development of the bilateral relations between Azerbaijan and Iran in recent years and stressed the importance role of the two heads of state on the development of friendly relations.
The Sheikh-ul-Islam stressed the importance of the expansion of bilateral relations.
He said Azerbaijan attaches great importance to live an atmosphere of friendship and brotherhood with neighbouring countries.
The Iranian Minister hailed Azerbaijan`s development.
Mahmoud Vaezi said Iranians were very concerned about the fate of more than one million refugees and IDPs on the Armenia-Azerbaijan Nagorno-Karabakh conflict and we hope that they will return home soon.
Vaezi noted Iran wants Azerbaijan to live in peace and prosperity.
The sides discussed a number of issues of mutual interest and they were presented with souvenirs.