Agenda
President Ilham Aliyev: situation on line of contact under control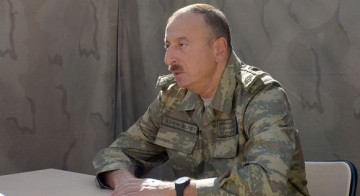 The situation is fully under control. Our positions are durable and strong, and the Azerbaijani army has established full dominance on the line of contact, President of Azerbaijan and Commander-in-Chief IlhamAliyev said in a meeting with servicemen n Agdam.
The professionalism and combat capability of the Azerbaijani army are growing. Azerbaijani soldiers, non-commissioned officers and officers adequately serve the motherland and remain loyal to their home country. All our military units, especially those located on the front line, are in high spirits. A sense of patriotism among Azerbaijani soldiers is very high and strong. We will continue to build up our military capabilities. Currently, the material and technical infrastructure of the Azerbaijani army is at the highest level. The weaponry and ammunition we have acquired in recent years suggest that we can accomplish any task.
In recent years, Azerbaijan has been producing modern weaponry and equipment. At the same time, the equipment, machinery, weapons and ammunition we purchase from foreign sources also meet the highest standards. The most advanced air defense installations have been acquired. Our army has the most powerful artillery. High-precision missile systems with a great destructive power, combat and transport helicopters, combat aircraft, armored vehicles, tanks – all of these are factors that form the potential of the Azerbaijani army today. Today, the Azerbaijani army is capable of destroying any object in Nagorno-Karabakh. This is known to us and the people of Azerbaijan, and this also be known to the enemy. Today, stability in the region is provided only thanks to the policy of the Azerbaijani state. Azerbaijan is a stabilizing country. Today, by increasing our capabilities, we have an even stronger army which is capable of fulfilling any task at any time, he said.