News
President Ilham Aliyev attended the opening of a new settlement for 632 IDP families in Agdam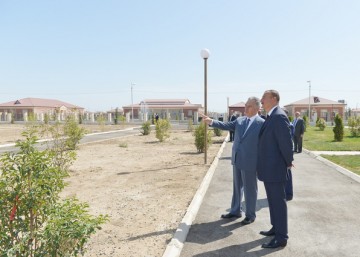 President of the Republic of Azerbaijan Ilham Aliyev has attended the opening of a new settlement for 632 IDP families in Agdam District.
Deputy Prime Minister, Chairman of the State Committee for Refugee and IDP Affairs Ali Hasanov informed President Ilham Aliyev that the settlement covered an area of 70 hectares. It has 632 houses, a 440-seat school building, a 50-seat kindergarten, an office building, a medical facility, a club, a community center and a post office. Some 632 families or 3,100 Agdam residents, who live in hard conditions in dugouts and huts built of reed and air bricks on a territory named "Dord Yol" in Agdam, will be resettled to the new residential area. The settlement has 50 one-room, 296 two-room, 242 three-room and 44 four-room apartments. The construction work, which began this February, has been completed with good quality.
The head of state reviewed an apartment here.
President Ilham Aliyev then visited the kindergarten and school No 135.
The head of state watched the Chovgan game in the school courtyard.
The President then met with representatives of the local public.
President Ilham Aliyev addressed local residents.
Speech by President of the Republic of Azerbaijan Ilham Aliyev
- Dear friends, my warm greetings to all of you! It is a wonderful day today. A new settlement is being commissioned in Agdam District. It is a beautiful settlement. The people of Agdam will live here. All the conditions have been created – 632 homes, a school, a kindergarten, a medical center, roads, the necessary infrastructure for people to live comfortably here.
Until now, citizens lived in very difficult conditions here. They suffered privations in mud huts and houses made of reeds for years. Now a new period begins in their lives. They will live comfortably here. But, of course, every displaced person lives with one dream – the dream of returning to the native villages and cities. I am sure that this day will come and we are doing everything possible to bring that day closer.
At the same time, the government is taking concrete and practical steps to improve social conditions and employment opportunities for the displaced persons. We adopted a state program, then additions were made to it, and we also built more than 80 settlements in recent years. All of the settlements meet the highest standards and have the most favorable conditions. People live in modern homes, in apartments of high-rise buildings. The Azerbaijani government will continue to take steps to address the problems of the internally displaced persons.
Currently, 190,000 IDPs have moved into new homes and apartments. In Agdam District this is the 18th settlement. People are already living in 17 settlements built earlier. Now the population of Agdam District is 190,000 people. Of these, 90,000 have already been settled in Agdam District. It is very gratifying. The creation of such settlements was intended to ensure that the people who can't live in their own villages will at least live in Agdam District and be closer to their native homes.
The Azerbaijani government regularly deals with the problems of internally displaced persons. Significant resources are allocated to address those issues. Funds allocated to refugees and displaced persons are increasing.
Each year, funds amounting to 300 million manats are allocated for construction alone, and settlements are built with this money. In recent years, at least 20,000 displaced people move into new homes every year. This improves their living conditions. In other words, each year we practically create a small town and plan to continue this work. I am confident that in the coming years this process will go even faster, because the financial situation of our country is good, it is improving, and we need to take these steps first of all for those who live in the harshest conditions.
The level of poverty among refugees is also reducing, Employment is rising and jobs being created. In other words, this work will be continued, and this year we expect to create several more townships. This process will be continued next year too. In general, a lot has been done in recent years to develop Agdam District. Social facilities and schools are built. Each settlement has a wonderful school of its own. This school is also beautiful and large. At the same time, we are renovating schools in villages, an Olympic center, a district hospital, a maternity hospital and a children's hospital have been built. Infrastructure projects are being implemented.
We can say that gasification in Agdam is almost at 100 per cent. Previously, there was no gas at all. Now I am told that gas is not supplied only to one village, but it will be supplied there too. Thus, we will provide 100 per cent gasification. Electricity supply is good. We are addressing issues of drinking water, the drilling of artesian wells is ongoing. Rural roads are improving and being built.
Some time ago, using the funds allocated from the Contingency Fund of the President, a road linking several villages was built. I know that the need for the construction of roads is still there. Therefore, further measures will be taken and a new executive order signed to renovate other roads too. In other words, we are doing and will continue to do our best to develop the district. Agdam District has tremendous potential. Our country needs this potential today.
During the war, the people of Agdam suffered huge losses. The biggest number of martyrs was in Agdam District. The people of Agdam have shown great heroism. National heroes from Agdam are a source of pride for our people, and today the Azerbaijani army securely protects its positions. This morning I visited the line of contact with the enemy and got acquainted with the situation there. I am provided with information on a regular basis. But while visiting the frontline I see the situation firsthand and give appropriate instructions.
As a result of attacks launched by Armenian occupying forces recently, our army suffered losses. Several servicemen have become martyrs. May Allah rest their souls in peace! However, I can say that their blood has been avenged. The Azerbaijani army has dealt a very severe blow to the enemy. According to the information available to us, dozens of occupiers have been killed. As has always been the case, the Armenians are concealing the actual number of their losses. But the truth is that the Azerbaijani army has got the upper hand in these developments again. We have won a victory in these developments. This will always be the case.
The Azerbaijani army is strong. The security of Azerbaijani citizens, especially those living in frontline regions, is fully guaranteed. Of course, our army is capable of fulfilling any task. We have held a meeting with servicemen today. Relevant instructions have been issued to the military, so that Azerbaijan could restore its territorial integrity soon.
Our territorial integrity will be restored. There are several factors that enable this conclusion. All of them are known to the public. Azerbaijan is getting stronger. Nagorno-Karabakh, the occupied territories are our native lands. Our people have lived and worked and will continue to live on these lands. From the perspective of international law, Nagorno-Karabakh is an integral part of Azerbaijan. The whole world recognizes Nagorno-Karabakh as an integral part of Azerbaijan and will never recognize the self-styled Nagorno-Karabakh as an independent entity. The Azerbaijani state will never tolerate a second Armenian state on its territory.
The first Armenian state was founded on historical lands of Azerbaijan. Then, in 1918, the Azerbaijani government made a huge concession. But the enemy did not appreciate that and continued to put forward territorial claims. Unfortunately, this situation was the consequence of chaos, crisis and anarchy that were observed in Azerbaijan in the early 1990s. Part of our land was under occupation. But at the same time, in Fizuli direction we managed to recapture several villages, and now life is being revitalized there, creative and landscaping work is in full swing. After returning to the currently occupied territories, we will restore all our cities and villages.
Each district in Azerbaijan is undergoing great creative work. Our prospects are also very positive. We will only go along the path of development even though there is economic, military and political crisis in various parts around the world. Azerbaijan is an island of stability. After returning to our lands which are now under occupation, we will rebuild all our cities, including the city of Agdam. The city has been completely destroyed and razed to the ground by Armenian vandals. Our historical monuments, mosques and tombs of our ancestors have been destroyed by Armenian fascists. We will restore Agdam and all other districts. We will return to these lands. The Azerbaijani people – both the older generation and young people – live with these dreams.
The latest developments show that there is high morale in society. Hundreds of people are interested in coming to the frontline from other regions of Azerbaijan and expressing their wishes. They want to take part in the restoration of the territorial integrity of our country as volunteers. I believe that this is not necessary for the time being. The Azerbaijani army is the strongest army in this region. Both our combat readiness and the provision with military and technical hardware are at the highest possible level. The process of talks is still under way. There are certain hopes even though the people of Agdam, and indeed all citizens of our country, are not pleased with the activity of mediators. We are not pleased either. After all, the main mission of mediators is to settle the conflict, not to keep it in a frozen state and conduct confidence building measures. The biggest confidence building measure would be the withdrawal of occupying forces from our lands. The Azerbaijani army is showing its strength, which is having an impact on the talks. The enemy is clearly seeing that it can't cope with us. If the Azerbaijani army starts to take action, the enemy will find itself in a very difficult situation. This is known to us, the enemy and the mediators. Therefore, I believe that the developments of recent days will prompt mediators to take some action. The aggressor state should receive an explicit message that this aggression must be stopped.
As you know, there are similar conflicts in different regions, in post-Soviet republics. But in connection with the conflict, there are four UN Security Council resolutions. There is no higher organization in the world than the UN Security Council. It is the highest and the most authoritative world organization in the world. This organization has adopted four resolutions demanding an unconditional withdrawal of Armenian armed forces from our lands. But none of them is not being fulfilled. They must be fulfilled made. Occupying forces must withdraw from our lands. After that peace can be established.
We are not living in peace now. We are living in a ceasefire, but we are still in a state of war. Everyone must know this. The war is not over. Only the first stage of it is. But the second stage may start too. No-one can rule that out. We don't want war, we want peace. But at the same time, we want our lands back.
Armenia certainly wants to preserve the status quo. The main wish and essence in the activities of mediators is to prevent a resumption of war. We don't want war either. Who does? But unlike them, we want our lands back. We want the lands of our ancestors back. We are right in our wish. Justice and international law support our position. Therefore, the situation of neither peace nor war cannot last any longer. This should be known to everyone – citizens of Azerbaijan and the enemy. I do hope that the blows dealt to the enemy in recent days will serve as a signal that this unbearable situation cannot last any longer.
We will continue to develop our country. In all directions we are implementing specific programs and plans. Today, in terms of the pace of economic development, Azerbaijan is a leading country in the world. The situation in the regions is improving with each passing day. The development of all regions, especially those located on the frontline, is in the spotlight. This opening ceremony today is also clear evidence of that.
I warmly salute all of you and want to congratulate those who will live here. They will live in comfortable and beautiful conditions, albeit temporarily, as this is a temporary place of residence.