News
Azerbaijani Embassy in Washington calls on the international community to consider sanctions against Armenia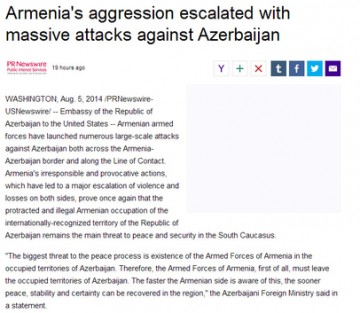 "The international community should consider sanctions against Armenia to reinforce its stance against the country's increasingly violent acts and its illegal occupation of Azerbaijani territory," Azerbaijan`s Embassy to the United States has said in a statement.
"As the global security environment faces renewed challenges, respect for fundamental principles of international law and consistency in how the international community approaches protracted conflicts, including the Armenia-Azerbaijan conflict, remains the most responsible and constructive course."
The Embassy said: "Armenian armed forces have launched numerous large-scale attacks against Azerbaijan both across the Armenia-Azerbaijan border and along the Line of Contact. Armenia's irresponsible and provocative actions, which have led to a major escalation of violence and losses on both sides, prove once again that the protracted and illegal Armenian occupation of the internationally-recognized territory of the Republic of Azerbaijan remains the main threat to peace and security in the South Caucasus."
It also cited the Azerbaijani Foreign Ministry as saying that "the biggest threat to the peace process is existence of the Armed Forces of Armenia in the occupied territories of Azerbaijan. Therefore, the Armed Forces of Armenia, first of all, must leave the occupied territories of Azerbaijan. The faster the Armenian side is aware of this, the sooner peace, stability and certainty can be recovered in the region".
The Embassy said: "Armenia's intransigent approach to the peace talks as well as its refusal to address the humanitarian consequences of occupation, such as the displacement of one million civilians as a result of thorough ethnic cleansing, have long undermined peace negotiations and endangered regional stability. Armenia continues to propagate regional risks rather than act as a responsible, independent nation committed to a safe and prosperous future for its own citizens and the region."
"Tangible progress on the ground, including the withdrawal of Armenian forces and positive changes to the status quo, is the key to a just, lasting and peaceful settlement of the conflict. Equally important is an unequivocal policy by the international community supporting territorial integrity of states and rejecting aggressive separatism and ethnic cleansing," it added.