News
Azerbaijan, Iran mull economic cooperation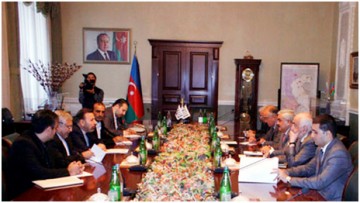 Azerbaijan and Iran have discussed cooperation in various fields during the visit of an Iranian delegation to Baku headed by Iran's Minister of Communications and Information Technology and co-chairman of the Azerbaijani-Iranian intergovernmental commission on economic cooperation Mahmoud Vaezi.
Vaezi voiced Iran's intention to increase the share of the NIKO Oil Company in the project of development of Azerbaijan's giant Shah Deniz-2 gas condensate field at a meeting with Head of Azerbaijan's state energy company SOCAR Rovnag Abdullayev.
The Shah Deniz field, one of the world's largest gas-condensate fields, was discovered in 1999. Its reserves are estimated at 1.2 trillion cubic meters of gas. Overall, the field has proven to be a secure and reliable supplier of gas to Azerbaijan, Georgia, Turkey, and Europe.
The gas which will be produced at the second stage of Azerbaijan's Shah Deniz field development will be the main source of Southern Gas Corridor, which envisages the transportation of the Caspian gas to European markets.
The Iranian minister also expressed readiness of his country to purchase Azerbaijan's gas.
"We are ready to purchase gas from Azerbaijan to meet the needs of Iran's northern region [border areas with Azerbaijan] in the fuel. In addition, we are interested in keeping the Iranian gas storage facilities in Azerbaijan in the summer," Vaezi added.