News
U.S ambassador to Azerbaijan expresses regret of any kind of hostilities on contact line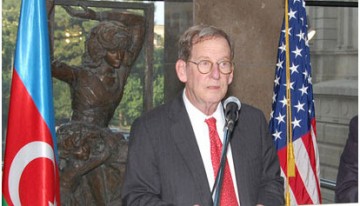 U.S ambassador to Azerbaijan Richard Morningstar expressed regret of any kind of hostilities on the Armenia-Azerbaijan contact line, casualties and tragedies.
Morningstar made this statement for the media while answering the question about Azerbaijanis taken hostage by Armenian armed forces in occupied Kalbajar region.
"I know that co-chairs are very concerned about the conflict along the line of contact and that just again goes to show how this terrible conflict must be resolved," ambassador said.
While responding to a question about the date of arrival of new U.S ambassador to Azerbaijan, Morningstar expressed the hope about the rapid appointment of a new ambassador.
"You know Congress has been very slow on all kind of conformations," he added. "But it has nothing whatsoever to do with Mr Cekuta or with Azerbaijan."
"I will suggest new ambassador that he stick to the principles that we have for the last few years, that he recognize how important our relationship is, which he does, and there are many parts of that relationship all of which we have to pay attention to," ambassador said.