News
President Ilham Aliyev reviewed the construction of the road-transport infrastructure underway around the Baku Olympic Stadium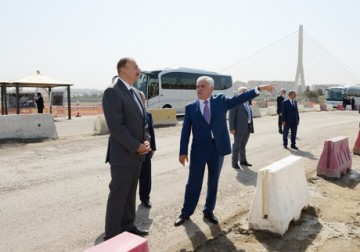 President of the Republic of Azerbaijan Ilham Aliyev has reviewed the construction of the road-transport infrastructure underway around the Baku Olympic Stadium.
Transport Minister Ziya Mammadov informed the head of state that the construction work in the first phase of the Hasan Aliyev Street-Ziya Bunyadov Avenue-Olympic Stadium highway was continuing on schedule. A large part of work on the project has already been completed.
President Ilham Aliyev was informed of the construction of road junctions and pedestrian crossings on a M4 18km Bilgah-Novkhani-Shamakhi highway.