News
President Ilham Aliyev reviewed the Jafar Jabbarli park after reconstruction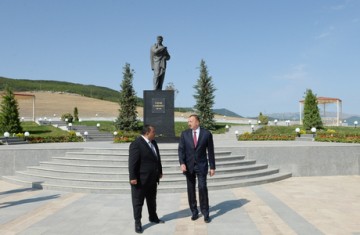 President of the Republic of Azerbaijan Ilham Aliyev has reviewed the Jafar Jabbarli park after the reconstruction work as part of his visit to Khizi.
The measures towards the socio-economic progress of regions have been dramatically increased using the revenues gained as a result of the strengthening of the country's economy. Among these measures, a special place is occupied by the creation or reconstruction of parks, alleys and recreation centers. The Jafar Jabbarli park in Khizi is one of the parks that was reconstructed to modern standards. Its reconstruction is of particular importance both socially and morally. The park pays tribute to Azerbaijan`s famous playwright Jafar Jafarli, who was born in Khizi.
These measures prove that the Azerbaijani government has always respected the memory of outstanding personalities and carried out great work to ensure the future generations` awareness of their activities.
The head of state laid flowers at a monument to Jafar Jafarli erected in the park.
The Azerbaijani President was informed about the landscaping and construction work in the park. It was noted that comprehensive conditions had been created in the park, which covers an area of 5,800 square meters, for the recreation of local residents. Green areas were laid out. Even the smallest details were taken into account during the reconstruction work, and thanks to this the park has become one of the most beautiful places in Khizi. The conditions created here demonstrate the scale of landscaping and construction work carried out in the district in general. Conditions created in this park named after outstanding playwright Jafar Jabbarli, who had great services in terms of the development of the Azerbaijani theatre art, open wide opportunities for the effective organization of recreation for both local residents and guests of the district.