News
President Ilham Aliyev reviewed a new office building of the Khizi District executive authority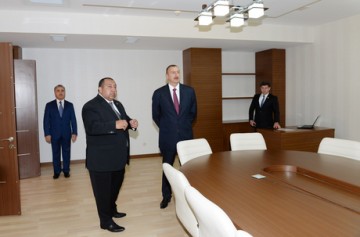 President of the Republic of Azerbaijan Ilham Aliyev has familiarized himself with the new office building of the Khizi District executive authority.
The construction work carried out in the regions on orders and instructions of President Ilham Aliyev is conducted in accordance with the strategy on the development of each district. The buildings under construction impart beauty to the regions.
The creative and landscaping work continuing in all the regions today contributes to the comprehensive development of our country. In this respect, the activities carried out in Khizi District deserve special attention. Conditions created in the new building of the district executive authority confirm that the improvement of the public administration system in the country is the focus of constant attention. In addition, the building constructed in a modern architectural style makes the district particularly beautiful. The building is provided with the necessary equipment and systems. All rooms in the building are equipped in accordance with modern requirements.
The President was informed that the construction of the building began in April 2013 and was completed in July this year. A bust of national leader Heydar Aliyev was installed in the lobby of the building. There are photo stands describing the multifaceted activities of national leader Heydar Aliyev and President Ilham Aliyev aimed at the progress of our country. The photos reflecting the participation of President Ilham Aliyev in the events held in Khizi in various years cause a great interest.
The head of state also familiarized himself with the conditions created in the rooms. All rooms are equipped in accordance with modern requirements. They have all the technical conditions for using modern management techniques. This opens up broad opportunities for better organization of the work of the executive structure and for productive activities of the staff of the district executive authority. Through the operational control room citizens can establish a direct video link with officials of the executive authority regarding problems of concern without coming to the office building. All representative offices of the district executive authority are already connected to the network. All conditions have been created in the auditorium for holding high-level events. The building has a library, meeting and conference rooms, administrative and other rooms. The building of the executive authority also gives the city a new appearance. In the territory where the building is located, major landscaping work has been carried out and a modern lighting system has been installed.
President Ilham Aliyev gave instructions and recommendations on provision of high-quality services to the population.