News
President Ilham Aliyev attended the opening of Norm concrete plant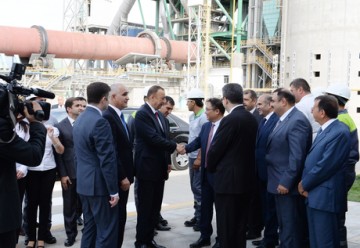 President of the Republic of Azerbaijan Ilham Aliyev has attended the opening of Norm concrete plant in Garadagh District of Baku.
The head of state first reviewed the photo stands in the lobby of the office building, reflecting national leader Heydar Aliyev`s participation in the opening of industrial facilities in Azerbaijan both in the Soviet period and in the years of independence, as well as the attention currently paid to the industry.
The President was familiarized with the laboratory and control room and informed about the country`s cement market and the plant.
Economy and Industry Minister Shahin Mustafayev said the facility had a production capacity of 5,000 tons of clinker per day and 2 million tons of concrete per year. The plant employs 350 people.
The head of state launched the plant and watched the process of production on a monitor.
After reviewing the facility, President Ilham Aliyev met with its staff.
A picture was taken in the end.