News
"Euronews" TV Channel broadcasts a plot about the march organized by the Heydar Aliyev Foundation in Cannes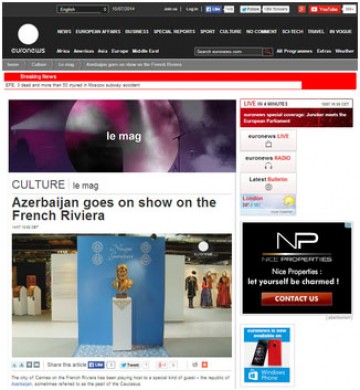 Euronews TV Channel has prepared a plot about the march held in the French city of Cannes, with the organizational support of the Heydar Aliyev Foundation, in connection with the first European Games.
Decoration of the Croisette shore with Azerbaijani flags was emphasized in the plot: "Commencement of the preparations for the first European Games in this Caucasian republic was marked this way. Informal march was organized in honour of this event along with the Mediterranean Sea shore".
25 year-old winner of the march Maxans Vodel shared his view of the event: "It was very pleasing to run on Sunday with people not being professionals in this type of sport".
It is also said in the plot, which notes three winners of the march won invitations to the first European Games to be held in Baku, that the invitations were presented by President of the Heydar Aliyev Foundation Mehriban Aliyeva: "Azerbaijan's Minister of Youth and Sport Azad Rahimov too participated in the presentation".
It is also noted in the plot that the march was held within the framework of the Days of Azerbaijani Culture in Cannes.