News
5th Azerbaijan-Russia Interregional Forum wraps up in Gabala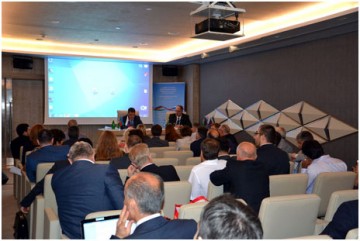 The 5th Azerbaijan-Russia Interregional Forum entitled "Interregional cooperation: new opportunities for growth" has ended in Gabala.
The final plenary session heard the reports by moderators of the round tables. The forum featured discussions on the prospects for the cooperation in the fields of energy and transportation, as well as potential to broaden the bilateral relations in tourism, investment and agrarian sectors.
Azerbaijani Minister of Economy and Industry Shahin Mustafayev said the forum focused on a wide range of topics.
The event participants discussed new opportunities in the field of tourism, as well as both countries` tourism potential, and exchanged views on experience in the agricultural sphere, innovations and state-of-the-art technologies implemented in the relevant sphere.
The meetings featured the presentation by various companies.
During the meetings, both countries` entrepreneurs explored the ways of developing cooperation. They discussed how to expand relations in the humanitarian field even further. The sides praised successful cooperation between Azerbaijan and Russia in the energy and transport spheres.
Azerbaijani Minister of Economy and Industry Shahin Mustafayev noted that the 6th Azerbaijan-Russia Interregional Forum would be held in Yekaterinburg, Russia in 2015.