News
President Ilham Aliyev met with PACE President Anne Brasseur in Strasbourg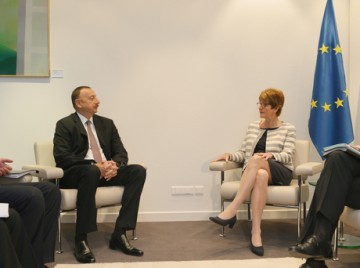 President of the Republic of Azerbaijan Ilham Aliyev, who is on a working visit in France, has met with President of the Parliamentary Assembly of the Council of Europe (PACE) Anne Brasseur in Strasbourg.
PACE President Anne Brasseur welcomed Azerbaijani President Ilham Aliyev.
The head of state signed the guestbook of the Council of Europe.
The parties discussed the current state and prospects of cooperation between Azerbaijan and PACE.
The parties also exchanged views over the work done in the fields of human rights and democratization in Azerbaijan, as well as the events to be arranged under Azerbaijan's presidency of the Committee of Ministers of the Council of Europe.