News
Asian Development Bank invested $1.7 bln in Azerbaijan in 15 years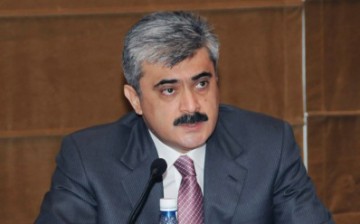 Starting from 1999, the Asian Development Bank (ADB) has invested $1.7 billion into projects in Azerbaijan, within 20 loans and one grant agreement, according to Samir Sharifov, Azerbaijan's Finance Minister.
Sharifov made the remarks on June 9 at a reception held in honor of the 15th anniversary of Azerbaijan's accession to the ADB.
"Some $1.334 billion have been drawn as of early this year under the loan agreements with the bank. The volume of used funds stood at about $570 million," the minister added.
He said that following the restoration of Azerbaijan's independence, the effective integration into global economic system was chosen as a strategic goal of economic policy, and this goal certainly would not have been achieved without cooperation with international financial institutions.
Sharifov noted that currently Azerbaijan ranks 26th in the world and 18th in the region in terms of possession of shares in ADB.
"ADB has actively participated in realization of infrastructure projects implemented jointly with the government and in holding reforms," Sharifov said, adding that these projects touched such areas as transportation, water supply and others.
"ADB projects cover both public and private sectors, and a representative office of the bank has been operating in Baku since 2004," Sharifov said.
The minister noted that Azerbaijan intends to continue strengthening cooperation with ADB to achieve the sustainable economic development goals.
Azerbaijan has been an ADB member since 1999. ADB's active loan portfolio all over the country reaches $1.2 billion. The country's participation share in the bank's capital is 0.5 percent.
ADB itself was founded in 1966 and has 67 members. The bank's headquarters is located in Manila, Philippines.
The leading shareholders of ADB are Japan and the U.S. (31.2 percent of the total share capital), India and China (12.8 percent), Australia, South Korea and Canada (16 percent) and so on.