INTERVIEWS
Azerbaijan will never accept the fact of occupation of its lands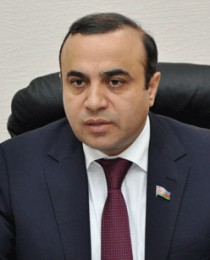 Interview with Chairman of the Council of State Support to NGOs under the President of Azerbaijan, MP Azay Guliyev
Q: In its reports, Amnesty International says that several countries violate human rights. But for some reasons the organization turns a blind eye to Armenia`s military crimes, numerous violations of human rights, particularly the rights of one million Azerbaijanis who became refugees and IDPs as a result of the Armenian aggression. We would like to learn your opinion…
A: Organizations such as Amnesty International, Human Rights Watch, Freedom House, Reporters Without Borders and others are making reports assessing the state of human rights across the world. Human rights is a very wide notion, which encompasses the rights to live on your own land, the right to live in safety, etc. So organizations such as Amnesty International should pay special attention to this issue in their reports. But, unfortunately Azerbaijan faces a double standard approach. It is known that Armenia has occupied 20 percent of Azerbaijan`s land and violated the rights of 1.2 million Azerbaijani refugees and internally displaced people. But international non-governmental organizations, including Amnesty International, do not take necessary measures to punish the aggressor. This organization should at least highlight this issue in its annual report so that the world community knows the truth. It should also call on the international community to take serious actions against Armenia.
There are certain reasons behind this. First of all, organizations like Amnesty International make their reports based on orders of some countries. These countries do not want Armenia be punished despite its aggression against Azerbaijan and its citizens. Second, the Armenian lobby exerts certain influence on these countries. And this aimed at strengthening slander campaign against Azerbaijan and present Armenia as a civil country, which respects international law.
Q: Reports of Catherine Ashton, High Representative of the EU for Foreign Affairs & Security Policy Douse standards, and Stefan Fule, European Commissioner for Enlargement and European Neighbourhood, can be considered an example of double standards. They allege that human rights are violated in Azerbaijan…
A: The reports of Catherine Ashton, High Representative of the EU for Foreign Affairs & Security Policy Douse standards, and Stefan Fule, European Commissioner for Enlargement and European Neighbourhood, have caused great regret and dissatisfaction in the Azerbaijani society. One can say with confidence that they did not analyze the situation when making their reports and based it on biased sources.
They should take into consideration that if law enforcement bodies of a country charge a citizen of concrete law violations, all aspect of these charge should be analyzed. They should never make hasty decisions not waiting for relevant court verdicts. They speak of rule of law, but defend those who make numerous crimes and violate law.
This is unacceptable. This is disrespect to the rule of law. International organizations must not behave so unprofessionally.
Q: In this context, we observe a selective approach to certain countries…
A: Yes, we observe a selective approach to certain countries on numerous occasions. For example, there are many cases of violations of law and human rights in Western countries. But representatives of international organizations which claim to champion for human rights and democratic principles never make reports on this. For example, these organizations keep silent when it comes to Tbilisi city court`s verdict to arrest former president Mikheil Saakashvili.
Such a selective approach causes discontent within the Azerbaijani society and undermines the image of these organizations.
Q: What can you say of the results of the recent Sochi meeting between the presidents of Azerbaijan and Armenia initiated by Russian President Vladimir Putin?
A: First of all, I would like to say that the Sochi meeting took place amid escalation violence on the frontline as a result of the Armenian armed forces` provocative acts. There were certainly certain hopes that the Sochi meeting would see positive results. It`s no secret that Russia is the country which can influence on Armenia the most. This is why there was a spirit of optimism. On the other hand, President Ilham Aliyev went to the meeting with certain arguments. Indeed, the President of Azerbaijan showed a principled position and resoluteness. He once again proved that Armenia is the aggressive and occupant country, which carried out military aggression against Azerbaijan and continues to disrespect international legal norms. The President reiterate that the conflict can be solved only within Azerbaijan`s territorial integrity and sovereignty. The world community once again realized that Azerbaijan will never accept the fact of occupation of its lands.
Q: After the Sochi meeting Armenian President Serzh Sargsyan made manipulative comments on the issues discussed…
A: Serzh Sargsyan attempted to mislead the international community once again. This proved that Armenia is continuing its provocations. And he once again proved that he is not a skilled and professional politician and statesman. This also demonstrated insignificance and unskillfulness of the Armenian leadership.