INTERVIEWS
We are happy with the achievements of our women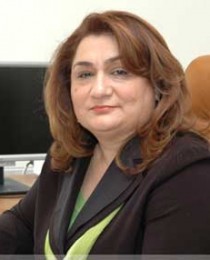 Interview with Chairperson of the State Committee for Family, Woman and Children Affairs Hijran Huseynova
Q: What is Azerbaijani women`s spirit on the International Women`s Day?
A: Let me first congratulate all our women, mothers, sisters, daughters with the International Women`s Day, and wish them good health and family happiness. Azerbaijan is now experiencing rapid development in all areas of life. Socio-economic programs and reforms, rapid integration into the world economic system, well thought-out foreign policy ensured Azerbaijan`s becoming the regional leader. The economic and political development also paves the way for our women to realize themselves. Women are today involved in all spheres of life in Azerbaijan. The foundations of this policy were laid by national leader Heydar Aliyev, and this strategic course is successfully continued by President Ilham Aliyev.
Q: We would like you to comment on the success of the state women`s policy in Azerbaijan
A: First of all I would like to note that the success of women`s policy in Azerbaijan was made possible thanks to national leader Heydar Aliyev. The national leader always put particular emphasis on the protection of women`s rights, establishment and strengthening of women`s movement in the country. Women today make 50.2 percent of the total population of Azerbaijan, and they are closely involved in various areas of the country`s life. The number of women deputy heads of executive authorities has reached 78 in the county. The number of women judges has also grown to reach 65. Some 84 out of 1153 employees of justice bodies are women. We have forty women chairs of notary offices. The number of women diplomats has reached 181. The special weight of women in public service is 28 percent, and this figure is 19 percent among entrepreneurs. The number of women parliamentarians is also increasing. If in 1990, women made 4.3 percent of the total number of parliament members, in 2000 this figure rose to 10.7 percent. Today women make 16 percent of the total number of members of the Milli Majlis. We believe that in the next parliamentary elections women will be more active. In order to achieve this we carry out constant enlightenment work. Women also play an important role in the development of science. Some 31 percent of the total number of doctoral candidates in the country are women, while 54 percent of research fellows are also women.
Q: What can you say of women`s role in the country`s public and political life?
A: Women in Azerbaijan play a growing role in the country`s public and political life. Thousands of women are members of various political parties, including the Political Council. The number of women members of the New Azerbaijan Party is growing yearly. The number of women members of YAP increased from 43.5 percent in 2010 to 46 percent in 2014. Among them are acclaimed cultural, public and arts figures, as well as women employed in economy and other areas. The number of women also grows in non-governmental organizations.
Would like to emphasize the role of first lady of Azerbaijan, President of the Heydar Aliyev Foundation, UNESCO and ISESCO goodwill ambassador Mehriban Aliyeva with her multifaceted activity is a role model for women of Azerbaijan. the first lady has so far initiated a large number of event aimed at promoting Azerbaijan`s history, culture, arts and sports across the world.
The number of women organizations has also increased in Azerbaijan. Today we have nearly 200 women organizations.
Q: Many women candidates joined the last municipal elections. Do you consider their presence in municipalities satisfactory?
A: Women`s representation in municipalities has increased 10-fold in the last municipal elections. This growth is a strong signal of women`s activity in the country`s socio-political life. This is why increasing the activity of women is our number one priority. The most important point is that we must pay much attention to quality. We need to ensure that intelligent women with high organizational skills and leadership abilities make it to municipalities. We must also pay attention to housewives and women working in different organizations. They should be active too. We discuss this issue at our conferences, we hear some proposals and organize several events in the country`s regions. Members of the YAP Women`s Council participate in these events. We carry out extensive enlightenment work.
Q: What should be further done to increase women`s role in society?
A: There are all conditions for women to realize themselves in the country. Women extensively benefit from this conditions which were created by President Ilham Aliyev and first lady Mehriban Aliyeva. Of course there are some challenges too, including social and psychological factors, lack of self-confidence and experience. To tackle these negative factors, first and foremost, awareness raising measures must be taken both with women and men. It is very important. Such projects will boost women`s self-confidence and help them play a bigger and more active role in society.