INTERVIEWS
The year 2014 was a success for Azerbaijan in all terms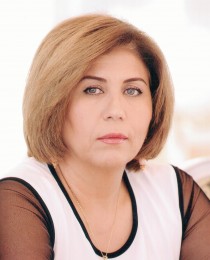 Interview with Deputy chairperson of the Milli Majlis, head of Azerbaijani delegation to OSCE Parliamentary Assembly, member of YAP Board of Directors Bahar Muradova
Q: What did 2014 mark for Azerbaijan in general?
A: The essence and main goal of the policy of the government of Azerbaijan is defending national interests, ensuring people`s welfare and the country`s development. And the success of this policy is confirmed by Azerbaijan`s current socio-economic development, political stability, and growing international reputation. Launched by national leader Heydar Aliyev Azerbaijan`s development policy is today successfully continued by President Ilham Aliyev. Eleven years of President Ilham Aliyev`s presidency saw Azerbaijan make considerable success in all areas of life.
In a short period of time Azerbaijan managed to mobilize and invest its resources in pursuing its national interests. Our major resource is human capital. As far as 2014 is concerned it marked success in all spheres of life.
Azerbaijan today accounts for 76 percent of the total size of economy of the South Caucasus. Our gross domestic product grew 2.8 times, while our non-oil sector increased 6.6-fold. All this was possible thanks to President Ilham Aliyev`s continuing the policy of national leader Heydar Aliyev. Another crucial factor here is that this policy is supported by the people of Azerbaijan.
2014 was the Year of Industry in Azerbaijan, and much has been achieved in this regard. The last year will also mark the ensuring of energy and food security, development of agriculture, establishment of technoparks and execution of important programs.
At the same time, Azerbaijan has made significant investments in high technology, and this year became memorable in this regard. In general 2014 saw Azerbaijan successfully complete all the tasks facing the country, provide for a dynamic development of our country and further strengthen our international position. Azerbaijan is recognized worldwide as a reliable partner and our influence opportunities are expanding.
Q: We would like to know your opinion on Azerbaijan`s foreign policy in 2014?
A: Last year saw continuation of successful foreign policy. For six years our country chaired the Committee of Ministers of the Council of Europe. In 2014, Baku hosted the summer session of the OSCE Parliamentary Assembly. This event was excellently organized, and this was hailed by foreign guests. This improved Azerbaijan`s reputation as a developed country, which has strong civil society and democratic values.
Last year Azerbaijan successfully hosted international events, and many of them were organized under Azerbaijan`s chairmanship of the Committee of Ministers of the Council of Europe. These events contributed to the strengthening and promoting of democratic values in our country. Azerbaijan is a tolerant country, which is committed to democratic and secular values. In this term, I would like to emphasize the role of the Heydar Aliyev Foundation. All this proves that Azerbaijan is not only regional leader, but also has a strong say on the international scene.
Last year saw Azerbaijan continue successful energy policy. First of all, it should be noted that 2014 marked the 20th anniversary of the signing of the Contract of the Century. Born thanks to national leader Heydar Aliyev`s strong political will at a very difficult time in 1994, this project fundamentally changed geopolitical picture of the region. And what is pleasant is that President Ilham Aliyev`s courageous and well-thought-out policy allowed Azerbaijan to found another international energy project in 2014. Realization of the Southern Gas Corridor project was a triumph of Azerbaijan`s new oil strategy. It was a critical step towards ensuring energy security in a broad area stretching from the Caspian Sea to Europe, boosting regional development and establishing a new international team.
Q: What can you say of the settlement of the Armenia-Azerbaijan Nagorno-Karabakh conflict? How would you characterize the role of OSCE and other international organizations in this process?
A: Unfortunately the Armenian-Azerbaijani conflict over Nagorno-Karabakh has not been resolved this year either. The reason for this is the criminal and bloodthirsty regime of Armenia. Armenia does not want peace. All of its efforts are aimed either at not holding the negotiations or at conducting them for the sake of imitation. This year the mediators were more active - we have to acknowledge that.
The Armenian-Azerbaijani conflict over Nagorno-Karabakh can be resolved only on the basis of norms and principles of international law. UN Security Council resolutions must be implemented. The occupying forces must withdraw from the occupied Azerbaijani lands and the territorial integrity of our country must be restored. These are the basic principles. On the basis of these principles we are ready to sign any agreement.
The occupying state should know that a strong Azerbaijani army may restore the territorial integrity of our country at any time. We still hope that the negotiating process can produce a positive result, and there are many factors enhancing this hope. We have political power, economic potential and a powerful army.
Q: How would you appreciate the activity of the Milli Majlis in 2014?
A: As in previous years the Milli Majlis worked very fruitfully in 2014 to improve the legislation base of the country. Summer and spring sessions saw parliamentarians adopts a number of laws, and make amendments and supplements to several laws. These moves aimed to ensure the rule of law, improve the protection of human rights, ensure the freedom of press, and promote tolerance within religious and ethnic groups.
We also discussed the 2015 budget package. The parliamentarians also heard reports of the government, Chamber of Accounts, and Ombudsman. Members of the parliament had meetings with voters to learn their problems and raise them at parliament sessions.
Moreover the parliamentarians voiced their position on international processes, and responded to anti-Azerbaijani statements. A number of international and bilateral agreements were ratified. The most recent of them is the Law on Science, which is of profound importance. It has recently been discussed at our committee. It provides for the development of science, and addresses social problems of scholars.
Also in 2014, several countries adopted resolutions and statements supporting Azerbaijan`s territorial integrity.